Harvest Your Hops
Three or More Times Per Year
Growing Hops in a Light Deprivation Greenhouse Can Dramatically Increase Yield
Hops growers are just now beginning to realize what cannabis growers have been experiencing for years. Growing in a light deprivation greenhouse gives you complete control over your environment, allowing you to grow healthier and more robust plants with increased harvests two to five times per year.
With Fullbloom's light deprivation greenhouse kits for hops, getting your greenhouse system up and running is easier and less expensive than ever before.
Fullbloom offers the most cost effective light deprivation greenhouse system for growing hops that you'll find on the market, saving you money in initial investment and freeing up money to customize your system.
A user-friendly computerized automation system gives you total control over all your greenhouse systems,including a/c, light deprivation system, dehumidifiers, heaters, circulation, passive ventilation, exhaust fans, and exhaust fan louvers with just a touch of a button. You'll rest easy knowing everything is under control.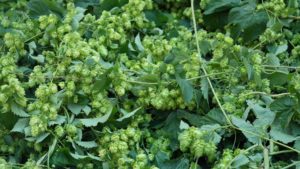 See key metrics, including humidity, CO2 levels, and indoor and outdoor temperature at a glance so you can evaluate what's working and what needs tweaking for optimal plant health.
Schedule your lighting to go off and on based on precise cycles, or go with a PAR light sensor to automate lighting based on current light levels. Never deal with the hassle of hand-pulling tarps again.
We're headquartered in the sunny Rogue Valley of Southern Oregon. You're welcome to stop by our facility for a tour on weekdays between 9am and 5pm. When you give us a call at 888-725-4769, you'll reach one of our friendly, on-site sales representatives. We can walk you through the best options for growing hops in your particular location and provide you with a free, no-obligation quote.
FAQ:
Which Greenhouse is Right for My Hops Grow?
The semi-gable style greenhouse is 30' wide and comes in lengths from 30' to 95' long. This design is great for growing hops in areas that may experience larger amounts of snowfall. The peaked roof presents snow buildup and improves wind resistance while providing a larger growing area for your hops plants. Standard center height is 15', but can be customized up to 25' to accommodate your tall-growing hops bines.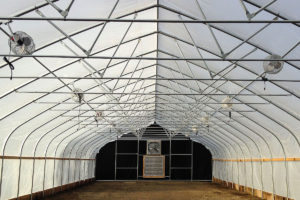 The quonset-style greenhouse is 20' wide and comes in lengths from 20 to 95' long. This style comes standard with 7' straight sidewalls, which allow for more usable space than a typical "hoop house" design greenhouse. The center height is 12'. The height of the sidewalls and roof can be adjusted to fit your needs.
Can I Install the Hops Greenhouse Kit Myself?
Fullbloom does not install greenhouses, but we do try to make the installation process as easy as possible. As with any large project, a construction background will be helpful. Detailed blueprints along with installation instructions are provided with purchase. We even have an installation support team on staff. If you are located within Southern and Central Oregon, we have a highly skilled third-party contractor we can refer you to. If you're outside the area, we highly suggest working with a local licensed contractor.
Do I Need a Permit?
Contact your local municipality for all permit inquiries and requirements, these will change from county to county. Our greenhouses are non-coded structures, meaning they cannot be permitted, so they are generally used as non-permanent structures. However, if your county requires a coded structure on your land, we can work with you and an engineer to get you what you need. Contact a sales rep for more information on coded structures.
One More Question…
See our FAQ page for the answers to more of the most common questions, or give us a call at 888-725-4769 to get a personalized response from one of our knowledgeable sales representatives.
The Results You're Looking For…
"Definitely looked around for a business around the valley that would work for my setup for awhile. Was really surprised with Fullbloom's  service here, the staff is super knowledgeable and personable. They were super easy to work with and delivered on what they promised during my first consultation. Look forward to working with them next time I need infrastructure change."
"Really friendly, knowledgeable, and helpful staff.. They helped me when I was in a bind on getting me some new equipment asap!"
"Full bloom is the only company to use for all your Greenhouse needs! Matt is highly qualified!"
SaveSaveSaveSave
SaveSave
SaveSave